5 Steps To Building a New Swimming Pool in Minneapolis St. Paul, MN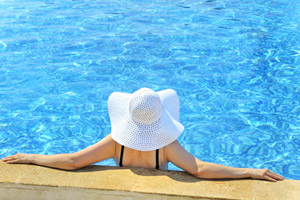 When you begin seriously thinking about putting a swimming pool in your backyard, it's time to get started with decisions about the design, materials, equipment, time frame and cost. There are many choices that go into building an in-ground pool that will match your water recreation and entertainment ideas, and sometimes it can be confusing. Making the wrong choices will not only affect its cost, but also its long-term performance. Getting started is easy, though. The experienced designers at our Minnesota top-rated pool company have helped many Twin Cities metro area homeowners install the pool of their dreams for over 30 years. We're always ready to help you make all of the decisions based on your requirements and budget. Here are some of the things to consider, and you'll find more information you need at the links on this page:
Choose the Construction Material

The materials used to construct your new swimming pool affect the pool's cost, durability, and installation time. In Minnesota, vinyl pools are the most affordable and popular choice. Their beauty, durability and quick installation are some of the reasons why homeowners go with this choice. Available in a wide variety of shapes, sizes, and beautiful designs, vinyl in-ground pools are a great choice for a wide range of homes. In comparison, concrete or gunite pools are far more expensive and out of the price range for most homes, even though they offer some advantages in design flexibility.

Choose Your Pool's Shape and Size

The size and shape of your pool should match your needs, the available space on your property and should allow plenty of surrounding space to accommodate decking, other amenities, and room for you and your guests. See our Swimming Pool Photos pages for a wide range of possibilities. Popular shapes include:

Choose the Technology

Swimming pools require pumps, filters, heaters, water purification equipment and more. We will help you select the right equipment to suit your needs and budget, featuring top-quality Hayward products, but here are some basic choices to think about:

Standard Technology – When your swimming pool budget is at the top of your priority list, choosing standard, high-quality equipment can help to keep your initial cost low. The tradeoff is spending a little more time on maintenance than with more automated technology.
Automated Technology – Today's advanced technology can give you almost complete freedom from many maintenance chores. A fully automated swimming pool maximizes your enjoyment, and minimizes chores like cleaning, water purification, and more.

Choose Optional Features

The key to getting maximum enjoyment from your swimming pool is in the details. Adding amenities and special features can make your aquatic recreation experience even more satisfying:

Lighting – For evenings spent around the pool, lighting, both above and below the water can add beauty and drama.
Accessories – From water slides for youngsters and the young at heart to automatic safety covers, diving boards, and much, much more, these additions add enjoyment and fun.

Surrounding Area

The area around your in-ground pool is almost as important. Your choices of decking and other finishing touches give you complete control over the look of your backyard and make your swimming pool area unique. Some of your options include:

Concrete Decking – Very popular and affordable, a concrete deck provides a surface that can be used for any purpose. Decorative effects, such as exposed aggregate and others can enhance the look.
Wood Decking – Combined with other pool decking features, wood decking creates a warm, friendly appearance and can incorporate a multi-level entertainment space.
Tile Decking – This popular decking material offers a wide range of appearances and textures. There's no limit to the design possibilities for a tiled decking area.
Landscaping and Fencing – The sky's the limit in creating your poolside environment with plantings, fencing and other enhancements.
Get Started with a Free Consultation and Cost Estimate
Once you've look at many options and possibilities, all you have to do to get started with actually building and enjoying your new swimming pool is to call our company. We'll give you a free, no-obligation consultation and price estimate at your location. We'll also show you even more possibilities. The total price of your new pool will reflect the choices you make during the design phase. Our experienced design staff can help you make choices that match your budget and needs. At each stage, we can recommend options that keep your pool costs under control while providing the design elements you're looking for.
Premier Swimming Pool Builder – Minneapolis St. Paul, MN
As the leading Twin Cities residential pool company, we build only high-quality swimming pools that are known for their affordability and durability. Whether you're looking for an affordable swimming pool for your backyard or a luxurious aquatic recreation center for your high-end home, we complete every job as though we were building it for ourselves. From design to complete construction, quality and customer satisfaction is our top priority. Call us today and we will get you started on the right track.