Minnesota In-Ground Pool Construction Company – Minneapolis St. Paul
ONLY $39,900 Complete In-Ground Pool Installation
14′ x 28′ Vinyl Swimming Pool.
Corner Entrance Steps.
Light, Heater, Pump and Filter.
Automatic Pool Cleaner.
Loop Loc Winter Cover.
Electrical and Gas Allowances Included.
FREE first-year opening and closing!
Get on our 2018 construction schedule early!.
New Swimming Pool Construction Special – Twin Cities, MN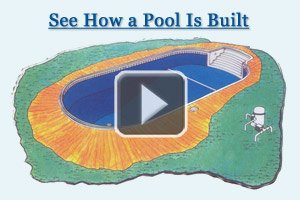 For Minnesota homeowners, adding an in-ground swimming pool to their backyards is an idea that creates excitement and anticipation. It's no wonder, since a swimming pool offers the pleasures of a vacation right at home. Building an affordable, beautiful and long-lasting inground pool in Minnesota requires extensive knowledge and experience because of our extreme weather. We hope that the information on this web site helps you choose the right pool design and construction company that makes this complicated project enjoyable and affordable.
How much does an in-ground pool cost?
Are there special construction requirements due to Minnesota's cold winters?
How do you choose a builder who puts quality and customer satisfaction first?
How are pools designed and built? How long does it take?
What are the differences between vinyl and concrete pools?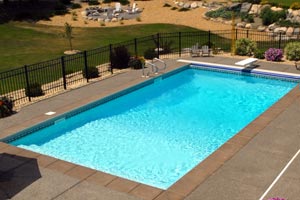 As the most trusted pool construction company in Minneapolis St. Paul, we build only high-quality pools for every customer, each designed to suit your budget, your ideas, and your home. Because of the complexity of the project, there are many decisions to be made during the design and construction process. Most property owners have no or little experience building or owning a pool. Making the wrong decisions can be very costly and cause many future headaches. To help you choose the right builder and select the options that meet your requirements, we encourage you to take the time to learn more about how swimming pools are designed and built, and get some of your questions answered first. When you're ready to take the plunge, call us or visit our showroom or request a free in-home consultation and cost estimate. Our experts will be happy to answer all your questions and help you make this exciting project fun and enjoyable.
How a Swimming Pool Improves Your Quality of Life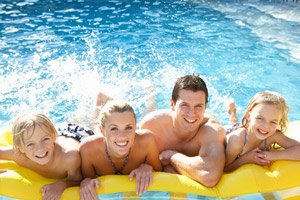 Minnesota is well-known for its long cold winters. Summer time always seems so short and precious. On a hot summer day, there is no better place to be than relaxing by your own backyard pool, which is the hub of entertainment and recreation for family and friends. Swimming is a whole-body exercise so everyone can enjoy its tremendous health benefits. From the sound of happy children enjoying the healthful exercise and fun of swimming to entertaining guests with a backyard party, perhaps combined with a cookout, a pool offers so many opportunities. Enhancing your home, increasing its value, and providing many years of happy memories, your new in-ground pool can be built for your enjoyment, starting right away.
Happiness – Imagine all the happy family times together around your new pool, enjoying water recreation.
Recreation – You can have a relaxing vacation with your family in your backyard at anytime.
Entertainment – It will be the social center for your family and friends in Minneapolis St. Paul.
Health – Swimming is a high-quality, low-impact exercise, benefiting your entire family.
Safety – Learning water safety skills is so critical in Minnesota, known for its lakes.
Togetherness – There's nothing like a pool to keep your children close to home.
Property Values – It enhances your home's value and makes it more attractive to buyers.
Affordability – The cost of a swimming pool is more affordable than most people think.
Enduring Value – Lasting for decades, it will bring endless joy to your family.
How Much an In-Ground Swimming Pool Costs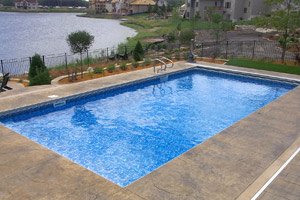 At our Twin Cities pool company, we hear this question every time someone calls us. As you can see in our special offer above, you can get a great, high-quality inground vinyl pool at no more than the price of a typical new car. And that's not a stripped down model, either. It features everything you need for full enjoyment, right in your backyard. We offer a complete range of vinyl and concrete in-ground pools, from simple, easily affordable designs to luxurious pools that will be the focus of the most gracious lakeshore home. Every installation is unique and its price will depend on the options you select, as well as the amenities you prefer. In every case, we'll use durable top-quality materials. Our expert design and construction, and attention to detail will make your new pool an outstanding investment for your home.
How to Choose a Minnesota Pool Company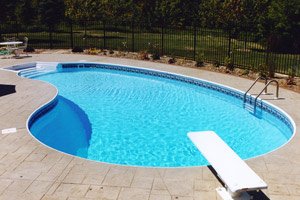 As for most homeowners or business owners, the pool you buy will be your first. That means that you probably have limited information about the design and building process. You may face many options that determine the final cost of the installation, and you may not know what important questions you need to ask before signing the contract. Since this is a major investment, educating yourself about swimming pools should be one of your first steps you take. We understand how important making the right decisions is, and choosing a pool company in Minneapolis St. Paul is an important decision, so here are some critical things to consider:
Quality – As a long-term investment, quality construction is essential.
Locality – Minnesota's weather extremes require special care during design and construction.
Esthetics – As the landscape's centerpiece, the design needs to enhance your home's appearance.
Safety – You need expert advice on safety issues.
Value – Design and installation are critical for your long-term cost savings.
Service – Proper and timely maintenance ensures long-lasting, trouble-free operation.
Your Minnesota Swimming Pool Company of Choice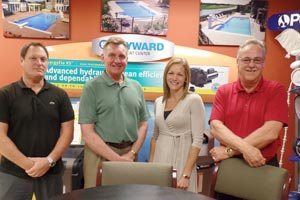 We have been building residential swimming pools in Minneapolis St. Paul for over 30 years. We want you to understand pool design, construction, and maintenance before deciding on various options and a company to build and maintain it. We believe that knowing the facts is the key to choosing the right pool building company, so we're doing what other builders don't. We're helping you understand this major purchase.
We want you to know all of the facts about Minnesota in-ground swimming pools, so we've built this website to give you the information you need to make an informed decision and to begin your planning. When you're ready, just contact us. One of our experts will arrange a visit at your home to show you all of the available options and how they will influence the price. There's no obligation, and our consultation is absolutely free. We form long-term relationships with each customer, and we'll be there for you from the very beginning and throughout your pool ownership experience.