Swimming Pool Service, Parts and Repair – Minneapolis St. Paul, MN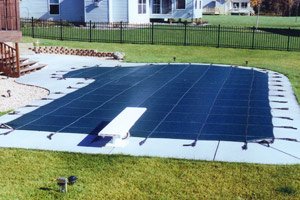 As a leading swimming pool company in Minnesota, we don't stop serving you once your new pool is built. We've been providing the full range of services for over 30 years, and we know that how important it is to provide reliable continuing maintenance service to our customers. Your swimming pool, like your home, requires periodic service and maintenance, no matter how well-designed and well-built it is. You need experienced, well-trained technicians to perform the maintenance on the complex systems and parts to ensure trouble-free operation. As the way you use your swimming pool changes, we're always there for you to add new features and upgrade its components. When you need supplies and accessories, too, you need a reliable company with a large stock of durable products at affordable prices.
As your trusted pool contractor, we recognize the importance of top-notch maintenance and are dedicated to offering the best service available in the Minneapolis St. Paul area. Unlike some builders, we don't just build your pool and then disappear. We know that your need for our expertise with all aspects of inground swimming pool and spa installations lasts as long as you own your pool. We build long-term relationships with our customers, and our well-trained and well-equipped technical staff is always ready to handle every job right. Count on our services to be available at a reasonable cost, whatever you need, including:
Remodeling and Renovation – We replace vinyl liners, repair decking, and update and replace pumps, filters, heaters, and other accessories.
Repair – Accidents happen and things wear out. Anytime your pool needs repair, whether we built it or not, rely on us to solve the problem quickly and reliably, at an affordable price.
Replacement – If necessary, we can tear out and replace your old residential inground pool with a new one.
Liner Repair and Replacement – We can repair or replace the vinyl liner, using the very best techniques available and the very best liner materials on the market.
Pump and Filter Repair – Like all mechanical systems, your pool's pump and filter may need service at some point. We stock parts for the pumps we install, and our technicians are trained to handle any need that may come up. We also service and repair all other major brands of pumps and filters.
Cleaning – We can refresh the appearance and cleanliness of your pool with our thorough cleaning services.
Water Testing – Let us evaluate the quality and healthfulness of your pool water with advanced testing techniques. We can then adjust all aspects of your water treatment.
Inspections and Evaluations – Only $350 – We inspect in-ground swimming pools for prospective home owners, banks and insurance companies. We provide a complete report of what it will take to get the pool up and running. If you're considering buying a home with an existing pool, let us inspect and evaluate it and advise you on any needed repairs or updates. This inspection service may save you thousands of dollars in potential repair cost.
Pool Opening and Closing – Since swimming pools are not used year-round in Minnesota, there are regular procedures that need to be done at the beginning and end of the season. Our technicians will be glad to schedule the opening and closing service at your convenience.
Plumbing – If your inground pool or spa plumbing springs a leak, we can handle the repair. Call us as soon as you notice the problem.
Accessory Repair – We repair and service pool covers, cleaners and skimmers, underwater lighting, and any other accessories.
Our store stocks an extensive line of accessories, parts, and supplies for your pool and spa. From chemicals and system repair parts to a complete line of quality accessories, we can supply all of your needs. We offer highly competitive pricing on all our products. Call or visit our store and we'll be glad to be of help. We can also order any product you may need from our trusted suppliers.
Minnesota Top-Quality Pool Service
Unlike some come-and-go pool and spa companies in the Twin Cities, we've been in the swimming pool contracting business in Minnesota for over 30 years. One of the reasons for our success is that we make dependable service to our customers our highest priority. When you need maintenance or repair for an in-ground pool or spa that we built or installed, you already know that we're there for you. If you didn't buy your pool or spa from us, we're there for you as well. Contact us whenever you have a problem or need information about service and repair. Our prices are always competitive, and our experts are always available to provide answers to any question you may have. Drop by our showroom or call us, too, when you need supplies or want to add accessories. Want to enhance your swimming pool even further? We have great new features, additions, and systems that will make your poolside life even more enjoyable. You can count on us to be your most trusted pool company whenever you need us.