The Cost of Installing an In-Ground Swimming Pool – Minneapolis St. Paul, MN
New In-Ground Pool Construction ONLY $39,900
14′ x 28′, with Corner Entrance Steps.
Top-Quality Light, Heater, Pump and Filter. Electric and Gas Work Included.
Automatic Pool Cleaner. Loop Loc Winter Cover. FREE one-year opening and closing!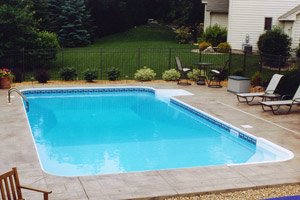 When you're considering putting in a swimming pool at your property, cost is always a consideration. It's a major home improvement project. The cost is different for each pool, of course, but a new in-ground pool is similar in price to other home improvement projects, like adding a room or a major remodeling job. Like those other projects, your pool will add value to your property and improve your quality of life. It is also a long-term investment, so consider its cost divided by its lifetime to get a true idea of its value.
Our Minnesota pool design and construction company can build a complete, ready-to-use vinyl or concrete in-ground pool at your Twin Cities home at a very affordable price. We can make the design to fit every home and budget. Here are some of the factors that go into the cost:
Materials – Vinyl in-ground pools are less expensive to build than concrete pools. Which type you choose is a major factor in the total price. As a leading pool contractor in the Minneapolis and St. Paul area, we build highly affordable vinyl and concrete pools, designed to withstand the harsh Minnesota winter weather.
Size – The size is a very important factor. A larger excavation, more materials, and additional plumbing and larger-capacity supporting equipment all add to the cost as the size goes up.
Options – The options, such as covers, automatic vacuums, decking, water slides, lighting, salt water cleaner and other optional equipment all add to the total price.
Cost Over Time – The true cost of a pool is best measured over its lifetime. Dividing it by the number of years it will be part of your home is the only way to accurately calculate the price. Today's swimming pools have a very long lifetime, making the operational cost per year surprisingly low. A pool is less expensive, in most cases, than an annual trip to a resort destination with your family, and far cheaper than owning and maintaining a vacation home, but gives you the opportunity to vacation right in your backyard any time.
When thinking about a new construction, keep in mind the many benefits of ownership. How much do you value healthful exercise and how much can you save on expensive health club fees? What is the value of having your family, especially your children, close to home and enjoying the active social life that a swimming pool encourages? How much can you save on expensive vacation trips by relaxing in your backyard? When you include all of the factors, having your own swimming pool is a smart investment.
Comparing the Bid and Choosing the Contractor
Many companies will compete for your business. That can lead to deceptive pricing by some unethical Minnesota pool builders, who will quote a low initial price to make a sale, but may not include everything you need to have a complete, ready-to-use swimming pool with all the necessary equipment. It's very important to compare pricing for a complete installation, fully equipped for your recreation and designed to meet the high construction standards required by Minnesota cold temperatures. As the leading builder in the Twin Cities, we're always competitive in price, but we never use deceptive tactics or hidden fees to make a sale.
Affordable Outdoor and Indoor Swimming Pools – Minneapolis St. Paul, MN
As the most trusted pool company in Minnesota, we completely understand your concern about the cost of putting in an indoor or outdoor pool. When you visit our showroom or have one of our consultants visit your home site, we'll provide all the information you need to make an informed decision about adding a pool to your property. We'll never offer you an initial low price, then surprise you with hefty fees later. We'll show you all your options and provide you with an accurate estimate of how much your pool will actually cost, then show you how our durable materials and meticulous construction adds years to the life of your project, lowering your cost over time. Contact us soon about your project, or visit our convenient showroom. Let us show you why our customers refer their friends and neighbors to us.