Swimming Pool Financing Options – Minneapolis St. Paul, MN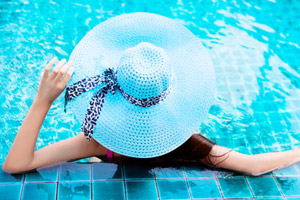 Before your pool project can be finalized, the financing of the cost of the pool must be arranged. Any major home improvement project comes at a considerable expense, so once you have made all the decisions involved in selecting a design and all options for your in-ground pool, you'll have a bottom line figure for the total cost. Then, it's time to figure out how to pay for your exciting new aquatic facility. We understand that everybody's financial situation is different and we help you find the best financing option, if necessary.
For many Twin Cities metro area homeowners, the very first questions we hear are, "How much is this pool going to cost? Can I afford it?" The answer may surprise you. Think about the price of the last new car you bought. For about the same price as a typical new car today, you can add a vinyl in-ground swimming pool to your backyard. It will provide you and your family with many decades of carefree recreation and healthful exercise, while increasing the value and salability of your home at the same time. Ask us about our current special of $36,900 for a complete installation.
Choosing the Right Lender and Financing Options
Here are some of the ways to pay for your new inground swimming pool:
NEW!

– Pool Financing through LightStream – Through a special arrangement with LightStream, a leading online consumer lender, you can finance your swimming pool with a simple, low paperwork, fixed-interest loan. LightStream's unsecured loans are available to buyers with excellent and substantial credit histories, and have terms from 24-84 months, and interest rates as low as 4.74%. Your LightStream loan can be approved in just minutes in many cases. Loans are available for new swimming pools, renovations, addition of new features, and more.
Available Funds – If you have the funds already available to cover the cost, your problem is solved. Paying for your pool without third-party financing is also the least expensive way to make the purchase, since you'll avoid paying interest on a loan over time and other fees.
Owner-Arranged Financing – You may already have an existing relationship with a lender. If so, this is often a very good choice for funding your new pool. Since a swimming pool adds value to your home, you'll probably find a home improvement loan available at a good interest rate from your current lender.
Builder-Assisted Financing – As a leading Twin Cities pool contractor, we can help you arrange financing. We have a long-standing relationship with Wells Fargo Bank that lets us help prospective customers secure the funds for their pools. Our strong relationship with the lender is based on the high-quality pools we build.
As with the financing for any major home improvement project, you should carefully compare interest rates and other fees before committing to any agreement. Check out the lender and all terms before making a final decision. Interest rates will depend, of course, on your own personal credit history, but loan rates right now are at all-time lows. It's a great time to take the plunge and make this long-term investment in your health, recreation and enjoyment. You'll enjoy its benefits for years to come, while increasing the value of your property.
Minnesota Swimming Pool Builder with Financing
Our seasoned consultants have been helping Minneapolis St. Paul homeowners become pool owners for decades. Whether you arrange your financing for yourself or take advantage of our long relationship with a lender who knows us and the high quality of pools we build, we'll be happy to work with you on all aspects of your dreams. Come into our convenient Maple Grove showroom, or call us to arrange for a free consultation and cost estimate at your location. There's never been a better time to add a beautiful swimming pool to your home or other property. We'd love to meet you.