In-Ground Swimming Pool Cost Estimate – Minneapolis St. Paul, MN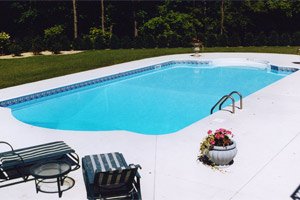 You'll have many ideas for your new swimming pool, along with a lot of questions. When you're getting serious about the possibility of installing a pool for your property, one of the important steps is an onsite consultation with one of our experts. Every installation site is different, and we'll be happy to show you how a pool will enhance your property. We are available for onsite appointments when it is convenient for you, including evenings and weekends.
In our free, no-obligation visit, our experienced consultant will help evaluate your property and suggest swimming pool's sizes, types and shapes that will fit into your outdoor entertaining plans. We'll help you understand all of the choices that go into the design and construction and show you even more options for its pump, filter, heater and cover. We'll also provide an accurate cost estimate for your new pool and work with you to match your ideas and budget. There's never any pressure on you. We know that making decisions on a swimming pool takes time and careful thought. We'll work with you throughout that process.
Request an Onsite Pool Cost Estimate
Top-Quality Swimming Pools at Affordable Cost
We also encourage you to visit our showroom in Minneapolis St. Paul, even before you arrange for an onsite visit. There, we can show you large-scale photos of pool designs, plus large-sized samples of materials, and much more. Our seasoned designers always enjoy answering the many questions our customers have, and we're full of creative ideas that can help you narrow down your choices and create your ideal inground swimming pool. We never use high-pressure sales tactics or rush you. Your budget for the cost of your new pool may be your primary concern, and we'll work with you to meet that budget with a high-quality, durable pool built by us. We're proud of our showroom, and your visit is a great place to start in choosing a pool for your home or business in the Twin Cities and across Minnesota.