Indoor Swimming Pool Construction Company – Minneapolis St. Paul, MN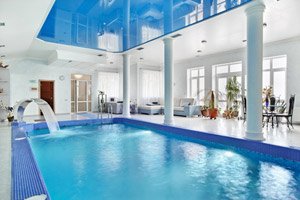 For most Minnesotans, swimming and aquatic recreation is only available for about half of the year. Our cold winters force us to close down our outdoor swimming pools in the late fall and wait until early spring before reopening them. For residential and commercial property owners, there's a strong temptation to consider building an indoor pool – one that can be used year round. Because of the complexity of the construction, indoor swimming pools obviously come at a higher price than the typical outdoor one, but the advantages of swimming twelve months of the year are leading more and more homeowners and commercial property owners to consider this option.
Doubling the amount of time you can swim eliminates the restrictions imposed by our cold winter weather. For all year around, you'll get more enjoyment and great exercise, no matter what the season. Residential indoor pools can be built in a separate building, or included within the walls of your residence, depending on the particular home. We work with individual homeowners, architects and real estate developers on new construction. As a locally owned and operated Minnesota swimming pool company, we have been designing, building and maintaining indoor pools for over three decades. We have the expertise, experience, and creativity needed to design and build an aquatic facility that meets your goals for year-round recreation and exercise, and increase the value of your property..
Indoor Swimming Pool Design and Construction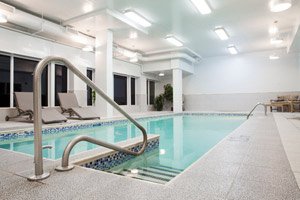 Adding an indoor pool presents some special challenges. During the design and installation, the following issues need to be addressed by seasoned experts to avoid costly repairs and remodels.
In Existing Buildings – Access for excavation and construction, disruption of normal activities and concerns with ventilation and humidity are challenges when adding a pool to any existing building. You need expertise and experience from your builder to solve these challenges.
New Construction – If you plan to add an indoor pool to a construction project, we would love to work with you. We have been working with architects and builders to find the best and cost-effective strategies for new installations. We will provide ideal solutions to seamlessly integrate your new aquatic facility into your new home.
Ventilation – Indoor pools require specialized ventilation, to prevent odors, excess humidity, and other problems. Water purification chemicals, too, can create odors and even corrosive atmospheres. Proper design and construction, along with specialized equipment, are essential.
Humidity – Every swimming pool creates a high-humidity environment. Special dehumidification equipment may be needed to supplement the ventilation system. Here, too, the experience of your builder is a crucial factor.
Most Trusted Indoor Pool Builder in Minneapolis St. Paul, MN
If an indoor pool for your property is in your plans or dreams, contacting our company will get you started on the right track. We have the experience, expertise, and dedication that is essential to creating and building an indoor pool that meets your requirement and budget. Whatever you can imagine in an indoor pool or custom spa, we can help you design and build your dream. Our focus on the highest construction standards ensures long, low-maintenance durability that keeps your total cost of ownership low and gives you worry-free enjoyment. We understand all the challenges that complicated projects present, and have the solutions you need to create an ideal indoor aquatic environment for year round recreation. Contact us today to discuss your ideas. Our professional designers will be glad you help you take your concept and turn it into an exciting reality. Let us show you how an indoor pool is a great investment for your luxurious home.