Residential In-Ground Swimming Pools – Minneapolis St. Paul, MN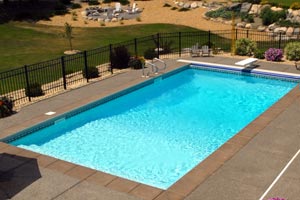 More and more Twin Cities homeowners are adding in-ground swimming pools to their properties. It just makes sense. With the costs of travel rising and budgets stressed, long vacations away from home and weekends at a distant cabin are becoming less attractive. With your own swimming pool in your own backyard, you can vacation right at home, and the vacation goes on daily, throughout the season. The benefits of swimming pool ownership, with features like built-in barbecues and spas, provide an attractive alternative to expensive travel and short vacations.
The cost of a new residential swimming pool is lower than you might think, too. We can build a complete vinyl in-ground swimming pool, complete with the most-wanted features, in your backyard for as little as $39,900. You and your entire family will enjoy the recreational and entertainment possibilities year after year, making it a wise investment that pays off in enjoyment and increased home value. Ask us for our current specials and affordable pricing on a new construction and optional equipment.
Higher Quality of Life and Home Value
If you're among the Minneapolis St. Paul homeowners dreaming about your own in-ground pool, perhaps it's time to live the dream. The advantages of adding a pool to your home are many, but not all are obvious. As a premier residential pool construction company in Minnesota, we've been helping homeowners live that dream for over 30 years. We will help you realize those advantages for decades of enjoyment with unmatched affordability, durability and customer satisfaction. Some of the reasons to consider adding a swimming pool to your lifestyle include:
Healthful Recreation – The entire family will benefit from the wholesome activities in and around your new in-ground pool. Healthy exercise and sunshine are something that's often in short supply these days.
Sociability – Whether it's a party for the grown-ups, your teenagers splashing around with their friends, or youngsters enjoying a birthday celebration, it's easy to imagine the fun and relationship-building qualities of your own pool.
Family Togetherness – Whether you have a house full of children or you're retired with your family scattered to the winds, there's nothing like a pool to get the family together. You'll keep your children at home more of the time, and bring those who have moved out back for a visit, with your grandchildren in tow.
Beauty – Is your backyard boring and humdrum? Imagine it with an in-ground pool, complete with decking and, perhaps, a barbecue center and even a spa added to the landscape. It makes the difference between a place to let your dog run and an invitation to outdoor enjoyment for you and your family.
Property Value – A well-designed and properly constructed inground pool adds considerable value and salability to your home. Today, many people are frustrated with difficulties selling their home in a difficult market. If you need to sell your home at some point, your pool will make that job easier.
The following slideshow demonstrates the construction process for a vinyl pool, which is the most popular choice for residential properties in the Minneapolis St. Paul area.
Choosing the Right Residential Swimming Pool Company
If a pool is in your plans, selecting the right Twin Cities company to design and construct it is a critical choice. Because of the sizable investment, your decision needs to be based on in-depth research and good information. Your long-term satisfaction and the value of your new pool depends on who builds it. A random contractor that you find at a home show or the State Fair may not be the best choice for your needs. Their high-pressure sales pitches don't assure you of any trust or confidence. Quality is the true measure of value. Durable pools that withstand Minnesota's harsh winter weather are what we design and build in the Minneapolis St. Paul area and across the state. A well-designed and flawlessly constructed pool will last far longer than a cheap, low-quality one, reducing your total cost of ownership during its long lifetime.
Leading Minnesota In-Ground Pool Builder
Spend plenty of time choosing the right company to build your new in-ground pool. Look for long experience in this business, excellent recommendations from previous customers, and a showroom staffed with knowledgeable experts to help you make all the choices and answer all your questions. Call us today for a free, no-obligation consultation and cost estimate. We will visit your site and talk with you about your ideas and plans. We also help you with financing if necessary. Let us show you how 30+ years of outstanding construction experience makes us your best choice to build your new pool.