5 Critical Issues for Outdoor Swimming Pools in Minneapolis St. Paul, MN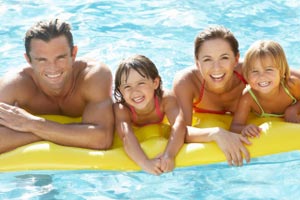 If you're like most Minnesota homeowners, you've never purchased an inground pool before. Like any other major purchase, putting in a backyard pool is a big decision. You need to think about many issues before making your decision. Here in the Twin Cities, one of the most important considerations for adding a swimming pool to your home or commercial property is who should build it. Since Minnesota weather presents some unique requirements, choosing a company with long experience in designing and building swimming pools right here in Minnesota is very important. Hiring a contractor that cuts corners can lead to expensive repairs.
Naturally, how much your pool costs will also be an important factor. A low-ball bid may look good on paper, but it can cost a lot more in hidden fees and future maintenance costs. A well-designed and well-constructed pool should last many decades. Saving a few dollars at the beginning can cost you a bundle in the long run. Additionally, when the construction begins and when the installation completes should also be an important factor in your decision. Here are some of the main issues to start thinking about:
Extreme Weather in Minnesota

Let's face it: Minnesota has some pretty harsh weather. Our frigid winters put additional stresses on outdoor structures, with the freeze-and-thaw cycle potentially causing frost heaving. If the pool is not constructed to withstand the harsh weather, serious problems can develop over time. Only an experienced pool company can properly evaluate your project, help you make good choices, and build a premium-quality pool that will shrug off our tough weather. Choose a contractor with little experience in Minnesota, and you're asking for trouble.

The High Cost of Low Price

Adding an inground pool to your home in Minneapolis St. Paul is a major project. Your pool should last for decades, reliably delivering fun, relaxation and recreation. Some builders will make a low-ball bid for your project, then cut corners on construction, materials, bracing, plumbing and other critical parts to meet their cheap price. The result can be a shortened life loaded with headaches. That's no bargain. A top-rated Minnesota pool construction company knows that their reputation is on the line, and won't do shoddy work and will always recommend and use the best materials and construction techniques to assure you of durability and reliability. You may spend a little more, but scrimping on quality will inevitably lead to costly problems. The sweet taste of a cheap deal lasts a short time, but the sour taste of poor quality, workmanship, and service nightmares last forever.

Safety Concerns

Your decision to add a swimming pool to your home should include considering safety issues. Your city or county may have specific fencing requirements for in-ground pools. Swimming pool covers are another safety issue that should be considered. Rely on an experienced, reliable pool company in the Twin Cities to know your area's regulations and to recommend adequate safety options. As the premier pool company in Minnesota, we build to an exacting safety standard that complies with all safety codes. Cutting corners in this area is simply not acceptable. Shoddy practices, inadequate equipment, and sloppy construction can lead to many problems. In the area of safety, accept no compromises, but rely on a builder with long experience in pool design and construction.

Reliable Service and Maintenance

There's no way around the fact that your pool isn't something you can install, then ignore for years. From opening your pool at the beginning of the season to closing it when the weather gets cold, you'll probably have your pool company handle the job. Filters have to be serviced, too, and maintaining water quality is a regular need. Like all systems, your pool's pump, heater, cover, and other electrical and mechanical systems may need maintenance and repair over time. You need a contractor that will be there when you need service. How long a company has already been in business is a good measure of how long they'll continue to be available to service your pool. Fly-by-night companies just can't meet your needs in the long term.

Construction Schedule

Pool construction takes time. While most people think about putting in a pool during the warm weather months, start thinking about it well before the swimming season. Pool builders are busiest during the spring and summer months, so deciding early will give you more time to enjoy your first swimming season. Making a decision in the winter is often ideal. You can get your project on the builder's calendar early in the spring and enjoy your pool for the whole season. Another option is to have your pool built in the fall, and you can have it ready as soon as the weather warms up the next spring. If we install your pool in the fall, our warranty won't start until the next spring. Remember: The sooner you decide to build a pool, the sooner you'll be enjoying it.
Top-Rated Swimming Pool Builder in Minnesota
With over 30 years of designing and building pools in the Minneapolis and St. Paul area and across Minnesota, we have the experience and dedication to quality you need when putting in a pool in your backyard. We know the critical construction issues caused by our harsh weather. We use only durable materials, high-performance equipment and time-proven construction techniques when building pools for our customers. We form a close relationship with every customer, and will be there to take care of all of your service needs. Our seasoned consultants and builders put quality and safety first for any installation project. Contact us today to discuss your ideas. We'd love to help you design and build the ideal pool for your family.