5 Questions to Ask Any Pool Contractor in Minneapolis St. Paul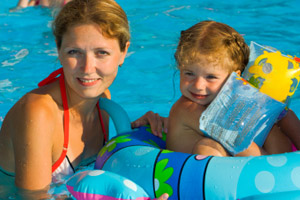 Choosing the right pool contractor for design, construction and maintenance service is critical to your satisfaction with your swimming pool. Fly-by-night companies can install a pool, but will it be the right one for your investment, and will they be around to service and maintain it? Adding an in-ground pool is a big and complicated project. It pays to do your own research and find the most qualified contractor to avoid potential headaches and costly repairs.
As the leading swimming pool construction and service company in the Minneapolis St. Paul metro area, we believe that our customers need accurate facts at every stage of designing and building their new swimming pool. That's why we present in-depth information here to help you made important decisions. By researching every aspect of in-ground swimming pools on our website, you'll quickly learn all of the important choices you'll be making and how swimming pools should be built in Minnesota. It's your investment and our job is to help you make the best choices on design, materials, equipment, schedule and most importantly, the contractor. We fully understand that this is your decision to make. When you search for a pool contractor in the Twin Cities area, ask the following questions to help you determine which one is best for you:
How much experience do you have building pools in Minnesota?

Minnesota inground pools have special design and construction requirements, due to our tough winters. Only a pool company with many years of experience can fully understand those requirements and can advise you properly. A contractor with little experience may think they can build a pool the same way they would in another area where the weather is much warmer, and you may suffer from many problems later, such as expensive repairs and maintenance. We been building durable swimming pools at affordable prices in the Twin Cities area for over 30 years.

How much will my pool cost after it is built?

A reputable pool contractor will prepare a bid that includes all costs involved. They'll make sure that the bid clearly states the accurate pricing based on the choices you make to complete the project. There won't be hidden costs that come as a surprise when the installation is finished. When it comes to such a big and complicated project, you must know the total cost before you start. Beware of contractors that avoid the question to give you a low-ball bid in order to make the sale. We know that you need accurate cost information when making your decision. That's why we are careful to include everything in our accurate cost estimates. If anything changes, we will discuss it with you in advance. Full, accurate price disclosure is always our policy.

Who will actually build my swimming pool?

Your pool will be built by your contractor, along with subcontractors. A reliable builder will have worked with the subcontractors many times and are proud of these relationships. Not only that, your contractor should closely monitor the construction progress to assure that everything is done to the highest standard. Our crews and all subcontractors have extensive experience in their specialized trades, and all construction is closely monitored at all times for quality and on-time performance.

When will my swimming pool be finished and ready to use?

Before signing a contract, be sure you know the approximate start date for construction and an estimated date for completion. While there may be factors that legitimately delay a project, an experienced builder will provide you with an accurate time frame so you'll know what to expect. Beware of companies that give you an unreal start and completion time, then make you wait weeks or months. You can count on us to give you an accurate estimate of start and completion dates. Our staff watches our schedules closely and can arrange your construction dates to fit both our schedule and yours.

Does the pool contractor have a high Better Business Bureau rating?

Be sure to check with the Better Business Bureau in the city where each pool company is located. If there are unresolved complaints listed for the builder you're considering or if it has an unreasonable number of complaints, you may be the next one to complain. The company you choose should have an excellent rating from this consumer agency. We're proud of our 30+ year record of A+ performance. We encourage every customer to check our Better Business Bureau rating, which we have maintained the highest rating throughout our history. Customer satisfaction is always our top priority.
Most Trusted Swimming Pool Contractor in Minneapolis St. Paul, MN
We take great pride in, and are humbled by our stellar reputation in the Twin Cities metro area. Our dedication to quality in all areas of inground pool design, construction and service, along with our commitment to total customer satisfaction has been our hallmark for over 30 years. Contact us soon to discuss your ideas and plans. You won't get a high pressure sales pitch from us – just the information you need to make your best possible choice for your property.