Minnesota Swimming Pool Builder – Minneapolis St. Paul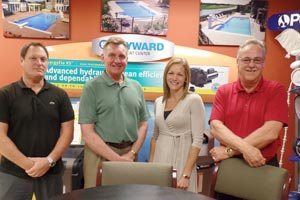 If you've been dreaming about the possibility of owning an in-ground pool for your home in the Twin Cities, you've come to the right place. Atlantis Pool and Spa is the leading swimming pool company in the Minneapolis St. Paul metro area. We're dedicated to building long-term relationships with our customers, and will help you choose the ideal pool to enhance your home and lifestyle. We want to help make your dreams of owning a swimming pool come true.
We also want you to understand some important issues that are unique to Minnesota due to our extreme weather. Unlike other pool companies, we provide valuable information to help you understand important questions relevant to inground pool design, construction and maintenance. You'll learn how we design and build top-quality, affordable and durable in-ground pools. You'll find ideas that will help you think about the features and design options you want. We'll also help you understand how to choose the best pool company for design, construction and maintenance. As the most trusted builder, we believe that the more you know, the better able you'll be to make the right choices for your home, while keeping the cost within your budget. One call to us will bring an experienced consultant to your backyard site for a free, no-obligation presentation, where you can learn even more about your choices and the cost.
Quality Swimming Pool Design and Construction Means True Value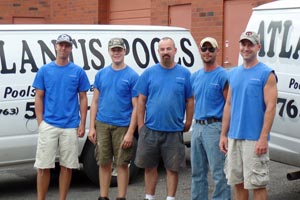 In the the Twin Cities area and across the state of Minnesota, we build only inground pools that bring endless fun and exceptional value. That's because the cost of a swimming pool isn't measured by the initial price alone. It will be part of your property for decades to come. We know that a cheaply built pool just won't hold up, and will create unnecessary additional costs for you throughout its life. Our extensive experience, our dedication to the highest standards and our meticulous attention to details assure our customers low long-term costs and a solid return on investment. That's why we're the leader in Minnesota pool building and why our unmatched reputation leads cost-conscious Minneapolis St. Paul property owners to choose us. With over 30 years of serving Minnesota property owners, we have earned the trust and business of thousands of satisfied customers. As a full-service company, we design, build, remodel, maintain and repair both outdoor and indoor in-ground swimming pools.
Best Pool Design, Construction and Maintenance Contractor
From our owners to our consultants, our expertise and experience mean that we understand every aspect of pool design and construction requirements that are special in the Minneapolis St. Paul area due to our harsh winter weather. We can help you choose the perfect pool for your home or business. We never use high-pressure sales techniques and we strive to build long-term relationships with our customers. Our goal is to provide you all the necessary information and let you make a smart decision to achieve your goals while staying within your budget. Complete customer satisfaction is always our top priority and our Better Business Bureau's A+ rating is the direct result of our commitment. If you're dreaming about a pool for your home, and want to enjoy its many benefits, we'd love to help make those dreams come true.
Our Twin Cities Pool and Spa Showroom and Store
We are conveniently located in Maple Grove, near the intersection of Highways 94 and 169. We're proud of our business, and hope you'll visit us to discuss your ideas. Our designers can show you an endless range of options from cover to lighting and from liner to entry. From affordable, durable pools that are a perfect fit for smaller suburban homes on a budget to luxurious pools to grace the most stately home, our Twin Cities area pool company has the expertise and experience you're looking for. See our beautiful picture gallery of swimming pools that we have built throughout Minnesota, and get all the information you need to make the right decision. We'd love to meet you and help you get started on your dream project.
At our store, we carry a wide range of pool supplies, including chemicals, cleaning products, toys, safety equipment, filter replacement cartridges, floats and more. For a limited time, we are offering 10-25% in-store sales. Ask us for details.
We Are Proud Members of:
The Association of Pool and Spa Professionals
Builders Association of the Twin Cities
Better Business Bureau