Commercial Indoor & Outdoor Swimming Pools – Minneapolis St. Paul, MN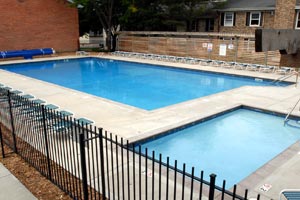 If your commercial property in Minneapolis St. Paul would benefit from a swimming pool, your choice of a pool designer and builder can make the difference between a pool that is a long-term investment in success and a pool that is a long-term headache that costs you money in repairs and maintenance over time. At Atlantis Pool & Spa, the quality of our swimming pools and our pool construction for the special needs demanded by Minnesota extreme weather make our commercial pools stand out from the rest. From the initial design process to complete construction of indoor and outdoor concrete pools for commercial use, quality is our highest priority. Still, we create top quality commercial pools at highly competitive prices, giving you the kind of return on your pool investment over time that keeps your total cost of ownership low. Don't settle for less when you can have us build the best pool for your money.
Special Requirements for Commercial Pools – A commercial swimming pool has special requirements that only an experienced Minnesota pool builder understands at every step in the design and construction process. In addition, commercial pools need well-engineered pump, filter, and sanitation equipment to minimize downtime. Safety is a huge concern for commercial pools, of course.
Safety as Top Priority for In-Ground Swimming Pools – From initial design and construction to service and maintenance, safety must be a top priority consideration for any commercial pool installation. You need a pool company that understands the full range of safety regulations and can implement any new safety rules quickly and properly. Experience counts when it comes to building a pool with maximum safety.
Quality Swimming Pool Service & Maintenance – Unless you have the resources to have a full-time expert on pool maintenance on staff, you need a pool company that will be there to provide the service and maintenance any swimming pool needs. You need experts on call to handle any situation that arises.
Whether you're creating a new commercial building or upgrading your current property, if your plans include a swimming pool, you need an experienced pool design and construction company. Only a company that knows the pool business inside and out can offer the expertise and dedication that makes the difference between your pool being an asset or a liability.
Building a Swimming Pool on Your Minnesota Commercial Property
A pool is almost a necessity today for many commercial properties. As competition grows, added perks like swimming pools can make the difference between success and failure. As a highly desirable amenity for a wide range of commercial applications, a swimming pool pays off in increased patronage, tenant satisfaction, and higher occupancy rates. In today's competitive market for commercial properties, a beautiful, durable, easy to care for swimming pool is a valued asset. Some of the businesses that are including pools in their plans include:
Motels and Hotels – A pool is an essential requirement.
Apartment Buildings – Tenants favor buildings with pools.
Condo Developments – Pools are a must in today's market.
Recreation Centers – Swimming is a favorite recreation.
Health Clubs & Gyms – A pool retains and attracts memberships.
Private Clubs – A well-designed pool helps retain members.
Corporations – Add a pool for better employee health, retention, and recruiting.
Commercial Pool Design & Construction – Minneapolis St. Paul, MN
If your business plans include a swimming pool, contact our top-rated commercial pool builder to discuss those plans. Our experts can assist you in every phase of your swimming pool plans. From design and selection of options to complete construction and service and maintenance, we're the pool builder of choice for discerning commercial property owners. Our focus on quality in ever aspect of commercial pool construction rewards your choice of us to build your pool with low total cost over time and high return on your investment. Our 30+ years of experience in building pools in the Minneapolis St. Paul area includes many commercial pools. Let us show you how choosing Atlantis Pools to be your Twin Cities metro area commercial in-ground pool contractor is the right decision for your company.