Swimming Pool Renovations and Remodeling – Minneapolis St. Paul, MN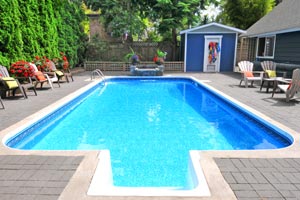 As swimming pools are more and more common in Minnesota, a growing number of them have shown signs of aging each year. Over time, liners can fade in color and develop tears. Old equipment like heaters and pumps may need to replaced or upgraded. Every homeowner knows that the best way to add new life, beauty and value to their homes is a renovation or remodeling project. New siding and windows, a room addition, or other projects can make an existing home fresh and new again. The same thing is true of in-ground swimming pools. At our full-service Minnesota pool company, we know that as pools age or their surrounding change, it's natural for owners to want a fresh new look for their aquatic recreation facilities. We can renovate or remodel your existing pool at a fraction of the cost of replacing it while renewing its beauty, adding new features, and bringing new life to your outdoor recreation. How much does a pool renovation or remodeling cost? Each project we take on is unique, but the cost is probably a lot less than you think.
As the leading pool contractor in Minneapolis St. Paul, we renovate or remodel many pools each year. Some of them were installed by us, while others were built by other companies. We offer many types of remodeling and renovation projects for vinyl in-ground pools. Best of all, those projects are surprisingly affordable. All give your pool a great new look and give you new pride in your backyard recreation area.
Remodeling Vinyl Pools – One of the fastest, most satisfying ways to renovate an existing in-ground vinyl pool is with a fresh new liner. The job takes just a short time, and costs less than you'd think. Add new features at the same time and you'll get a fresh, exiting new look. Let us show you the latest in vinyl liner choices.
Mechanical Renovation – Upgrade your old pump, filters, heater, and more for energy savings and lower maintenance costs. At our Minnesota swimming pool renovation company, we supply and install a large selection of top-quality equipment and will be happy to discuss how you may benefit from an upgrade by lowering your operating costs, automating your systems, and increasing your enjoyment.
Add an Automatic Cover – While you're renovating and remodeling, consider adding an automatic cover. The benefits include improved safety, lower energy costs, reduced chemicals and much, much more. We can quickly install a cover at a low cost.
Add New Features – We can add exciting new water features and new options to your pool as part of the remodeling job. From water-slides to new pool entries, underwater lighting and more, renew your excitement in aquatic recreation by finding new ways to enhance your enjoyment.
Complete Remodeling – If your pool is old, outdated or damaged, a complete remodeling job may be your best bet and will restore its beauty. Our pool design and construction company can turn an old, faded, or damaged swimming pool into a real asset to your property. We will be happy to show you the possibilities.
Minnesota Pool Remodeling and Renovation Company
We love the challenge of transforming existing pools into exciting new recreational areas. The look in our customers' eyes after we complete a restoration or remodeling project is the best reward for our work. It's like getting a brand new pool, but without the cost of a new one. We have the expertise, products, and imagination to help you make almost any pool restoration or renovation project a reality. Contact us today to discuss your ideas and to learn about the many ways we can make bring beauty, enjoyment and value to your property. We'll show you all of your options and give you an accurate estimate of the cost of your project.