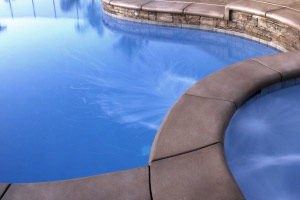 When it comes to heating in-ground pools in Minnesota, cost is always an issue. Since pool heaters extend our swimming season, most pool owners in Minneapolis St. Paul specify a pool heater when they build a pool. Those who don't usually add one later. Choosing the right pool heater is a critical issue. Efficient operation, long life, and initial cost are all factors in making the best choice for a system that will keep the water in your pool at a comfortable temperature, no matter the season.
As a premier swimming pool builder in Minnesota, we've learned that pool-heating systems from Hayward Pool Products are the best combination of all three. Quality engineering and construction make Hayward pool heaters have the reliability pool owners require, along with the energy efficiency and competitive initial cost that make them the smart choice for most pool owners.
Inground Pool Heating Options – Minneapolis St. Paul, MN
At Hayward Pool Products, they know that there is no single pool heating system that's right for every pool. So, they offer four distinct pool-heating systems:
HeatPro Pool Heaters – If the perfect water temperature is what you are looking for, Hayward HeatPro series of heat pump pool heaters may be your perfect choice. Operating like an air conditioner in reverse, HeatPro heat pumps quietly and efficiently heat your pool water by taking heat from the air, without burning natural gas. Where HeatPro heating systems are specified, owners report up to 80% lower energy costs over less efficient gas heaters.
Universal H-Series Low NOx Heaters – If environmental concerns are high on your list of priorities, these world-class pool heaters are ideal. With an industry-leading 84% efficiency rating and ultra-low NOx emissions, these pool heaters provide comfortable pool temperatures without harming the environment. Advanced Cupro-Nickel heat-exchanger technology and hi-tech insulation design extracts the maximum heat from every BTU of the natural gas it burns.
H-Series MilliVolt Heaters – Ideal for salt water pool purification systems, this series of heaters uses Cupro-Nickel heat exchangers and an advanced polymer header system to virtually eliminate corrosion and rust. Its high efficiency performance insures ideal pool temperatures while its corrosion-resistant engineering offers long life and durability.
Electric Spa Heaters – Spa owners appreciate the sophisticated features and superb performance that make Hayward Spa Heaters outperform other brand of spa heater twice the size. Their compact size means they can be placed out of sight, even under the skirt of your spa.
The Right Hayward Pool Heater for Every Minnesota Swimming Pool
Whatever your pool's design is, Hayward Pool Products offers an efficient heater to suit your needs. Making the right choice, though, can be difficult. At our swimming pool construction company, we have over 30 years of experience helping Minneapolis St. Paul area pool owners make the best heating choices for their specific pools and needs. You can rely on us to help you make an informed, correct choice that will keep your pool as enjoyable in early spring and fall as it is in the summer.
Other Pool Heating Money Savers for Your Minnesota Pool
Along with making the right pool heater choice, there are other ways you can minimize your heating energy costs, while enjoying your pool at the ideal temperature. Ask your Twin Cities pool and spa specialist at our company how an automatic pool cover can save money by keeping the heat in your pool when you're not using it. Ask, too, about solar pool heating options that can cut your energy bills, while minimizing the impact on the environment.
Swimming Pool Heater Supplies & Installation in Minneapolis St. Paul, MN
For your new pool, built by our experts, or your existing pool, the experts at our Twin Cities pool contractor have extensive experience in selecting the right heating options for your inground swimming pool. Our 30+ years of quality service in designing, building and maintaining pools in the Minneapolis and St. Paul metro area, along with our in-depth knowledge of Hayward pool heating technology, means that we can help you choose the ideal solution. We have the experience and training you need to make the best choice. Call us at any time to discuss your pool heating needs. One of our pool consultants will be happy to explain every option for your new or existing pool.